What is Messenger Kids and is it appropriate for my children?
Here are 5 Facts every parent needs to know about Messenger Kids:
#1 The Basics
"Made for kids. Controlled by parents."
Messenger Kids is a child-friendly messaging app created by Facebook to mimic Facebook Messenger app. Designed for kids ages 6 to 12 years old and there are NO ADS and NO IN-APP purchases available.
The app has a bunch of child appropriate GIFs, filters, frames, stickers, masks, and drawing tools to make connecting and expressing yourself even more fun.
Messenger Kids does not require the child have a Facebook account (since they cannot under the age of 13) or a phone number. Similarly, it will not automatically create a Facebook account when they turn 13.
#2 Set Up
Download the app from Apple's App store OR Google Play for Android.
Next, authenticate your child's account by using your own Facebook username and password.
Then decide what features of the device the app will have access to:
Send Notifications
Photos & Videos (save and send media)
Camera and Microphone (take photos, record audio and video, call their contacts)
Create their account by using only their name. Then you can use an actual picture of your child or choose no picture for added privacy.
#3 Contacts
As the parent, you can add contacts for your children. Facebook will suggest contacts based on your Facebook friends. Primarily, they are suggesting your friends' kids. Both sets of parents will need to approve the connection before the kids can communicate freely.
A child can also have a contact who is an adult. The adult doesn't need Messenger Kids – they can use regular Messenger in order to connect. This is really great for Grandparents, Aunts/Uncles, or other trusted adults.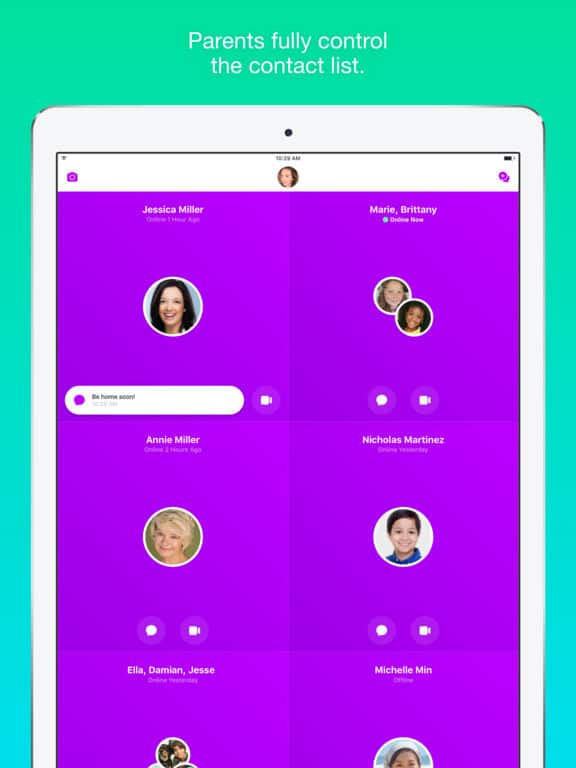 #4 Parental Controls
The parental controls are actually quite fantastic.
You can access the Parent Dashboard through your own Facebook account. On your device, go to "more options" in bottom right corner. Under Explore you'll find Messenger Kids.
Here you can:
Edit your child's info (gender/DOB/picture)
Utilize Sleep mode. When Messenger Kids is in sleep mode your child cannot use it. Start and stop times apply to time zone set on child's device. (Weekend and weekday options)
4-Word Code to find each other. When activated, kids can give this 4 word code to friends who can then request your permission to your child's approved contact.
Online Status. You can allow or disallow your child's contacts to see if your child is online or not.
Their new Parent Dashboard (updated Feb 2020) allows parents to:
See Recent Contacts & Chat History. Review WHO your child is communicating with and HOW they are communicating (text/chat).
Log of Images in Chats. Review the most recent photos/videos your child has sent or received (over past 30 days)
Blocked Contact History/Reported. Review a list of all the actions your child has taken such as blocking or reporting contacts or messages (although the parent will be contacted via messenger if the child blocks or reports someone.)
Remote Device Logout. If your child can login on multiple devices, this allows the parent to log them out remotely on which devices they choose.
Download your child's information: This download includes a list of all your child's contacts, messages, images and videos sent and received. (Child will receive a message in Messenger Kids when parent downloads).

#5 Ratings
Apple: 4+
Google Play:  E  (Everyone)
Messenger Kids: 6 -12 yrs
Brave Parenting: 6-9 yrs with firm boundaries // 10-12 with less boundaries
If the app is used as their tagline declares: Made for kids; Controlled by Parents then we absolutely believe this messaging app is a safe place for your child to communicate with known and trusted friends and family.
We especially love the fact that both sets of parents need to approve the addition of any contacts. Also, no ads, no in-app purchases, and NO backdoor to the internet. This means that if a web link is sent from one child to another – let's just say it's a YouTube link – the link will not work if the device does not have YouTube or an internet browser already installed.
Which brings up an important point: Kids' devices (iPads/iPods/Tablets/Kindle Fire) should have the ability to download new apps DISABLED. Furthermore, they should not have an internet browser. If you do allow YouTube, we definitely recommend YouTube kids with parental controls enabled.
Our Brave Parenting Best Practices are:
#1 allow certain time frames for the app/device to be used. We don't want a child learning the habit of carrying the device around the house waiting for new text messages or notifications. This can control their day and lead to obsession. (There will be plenty of time for that as a older teen and adult.)
#2 allow for certain locations in the home where it can be used. Because they have access to the camera for photos and video chat, this is always a good idea. While their conversation may be innocent now, this sets the tone for how they will be allowed to use a phone later down the road.
#3 use this as an opportunity to teach good character and digital communication. Read your child's messages. Correct/redirect any messages which could be read as unkind, rude, or disrespectful. Give them suggestions for how to reword or ask more questions before responding.
And finally, Facebook makes a noteworthy effort to educate children on how their information/data is used. This kid-friendly walk-through on Messenger Kids doesn't replace the education we as parents must give our children about their digital footprint, but it certainly doesn't hurt to have extra reminders around them.