What is Venmo and is it appropriate for my child?
Here are 5 FACTS every parent needs to know about Venmo:
#1 Send, Pay, & Receive Money
Venmo began in 2009 as a way to eliminate the "awkwardness of IOUs". It provides a quick and convenient way to split and share payments with friends using their phones. The app, now owned by Paypal, has an estimated 10 million users. Its popularity has taken its proper name noun and turned it into a verb: "Just Venmo me"
You start by linking your Venmo account to your debit card, then adding your friends by their name, @username, phone, or email. Like PayPal, Venmo stores the money you receive on an in-app balance, which can fund your future payments (if there's enough money) or be cashed out to your bank account.
Inside the app you can send money to someone you've added as a friend, pay for a service (some companies allow you to pay with Venmo just like you would pay with "Apple Pay"), or receive money from others. Venmo is now a go-to way to pay babysitters, collect payments as a small business owner, and to split the "tab" with friends.
#2 Social Feed
Paypal, who acquired Venmo in 2013, allowed for all of the same features of sending and receiving of money for years. What made Venmo different and very popular was its social feed.
Like other social media feeds, the Venmo social feed lists who of your friends are sending/receiving money. With the ability to add a message (with emojis) to indicate why you're sending money, the feed became a transparent look into everyone's lives and spending habits. Who went out with who last night and which roommate pays the utility bill each month.
The social feed gives 3 viewing options: (1) everyone on Venmo, (2) your friends, or (3) yourself.
If the idea of everyone knowing your transaction history sounds creepy, Venmo's privacy settings allow for "private" mode where only sender and receiver sees the transaction.
#3 Totally Free?
We must always ask the question, "If you can use the app for free, how does the company make money?"
Venmo makes money in a variety of ways. If you send money using a credit card, Venmo adds a three percent fee (which is the fee from the credit card company being passed on to you). There is also a fee of one percent if you transfer money to your bank account with an Instant Transfer.
However, Venmo also makes money by charging authorized merchants when you purchase products and services. Businesses will be charged 2.9% of the payment and 30 cents per transaction. Businesses who want to reach the younger generation (especially college students) willingly agree to accept these charges as means to tap into this market. Also, these authorized merchants can utilize the social feed for advertising.
All in all, the data that is generated by knowing who, when, and where people are spending money is very valuable to companies.
#4 Security/Safety concerns
Venmo automatically uses multifactor authentication when you use the app from a new device, which helps prevent unauthorized logins to your account. However, unlike PayPal, Venmo doesn't offer buyer or seller protection. Therefore, if you sell and ship something but then don't get paid, you're out of luck.
With Venmo's popularity among young people, scammers like to prey on this generation through Venmo. The best way to avoid scams is to avoid strangers. Only trusted, well-known people accepted as friends. Payment reversals requires the permission of the other user and those funds must still remain in their Venmo balance.
Additionally, there is the privacy concern of others knowing who you are paying or who is paying you. Not only could this lead to unnecessary drama among friends and family but it is also breeding grounds for stalking.
Finally, a note concerning connecting your contacts and social media profiles with Venmo. Enabling Facebook Connect automatically adds your Facebook friends to your Venmo friends, "so that you can easily find and pay them". Venmo then accesses your email address, Facebook friends list and public profile. Thus, even if you don't want to share your information with Venmo, your Facebook friends or phone contacts can choose to share your information via their account.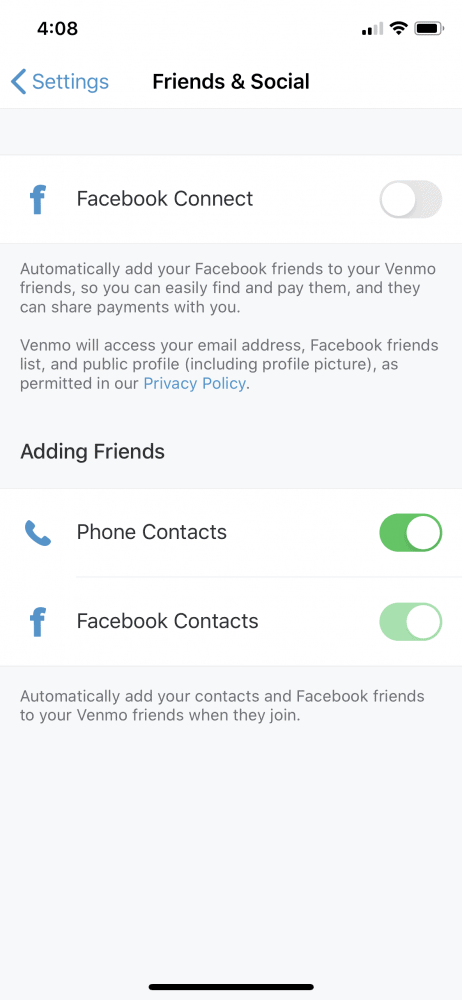 #5 Parental Controls & Ratings:
Apple Store: 4+
Google Play: E (Everyone)
Venmo: 18
Brave Parenting: 18
Venmo's terms of service states that to create an account you must be 18 years old. This requirement alone leads Brave Parenting to recommend 18 years old be the earliest age to use Venmo.
Chances are, however, your high school aged child has stated their "need" for  Venmo. Whether it's the family they babysit for, the neighbor whose lawn they mow, or the extra-curricular group leader they need to pay for t-shirts; adults often desire the teenagers to have a Venmo so they can easily exchange money. As Venmo continues to become more and more of a regular practice, this issue will continually come up. The fact is, very few Millennials write checks.
Because of this, an alternative solution is for you, the parent, to download the app and create an account for your teen. You can still link your teen's debit card to the account in order to promote financial responsibility. When money needs to be exchanged, have your teen come and discuss the transaction they need to make. If you approve, they can use the Venmo app on your phone to complete the transaction.
This option allows the teen to have supervised practice using the app while still accomplishing the necessary money transfers. We recommend encouraging your teen to make their transactions "Private" between only them and the receiver as much as possible.