What is Threads, and is it appropriate for kids?
Threads is the new "micro-blogging" app connected to Instagram.
Facebook-parent Meta officially launched its competition to Twitter on Wednesday, July 5, after confirming its plans for the app only three months ago. Meta CEO Mark Zuckerberg stated: "We hope to take what Instagram does best and create a new experience around text, ideas, and discussing what's on your mind."
According to Meta, Threads had over 100 million sign-ups in the first week, including a large number of brands, celebrities, journalists, and many other prominent accounts.
Here are 5 Facts every parent needs to know about Threads (or, at least, what is known in its infancy).
Also check out our podcast: Episode 116 on Threads!
#1 Twitter Knock-Off
The platform looks a l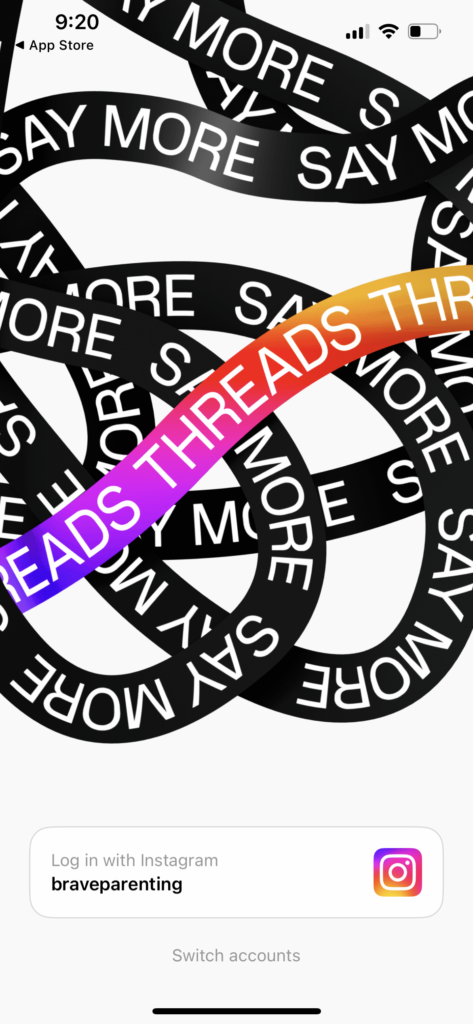 ot like Twitter, with a feed of largely text-based posts up to a 500-character limit — instead of being called "tweets," they are called "posts" in Threads. The app's navigation and settings, however, mimic that of Instagram.
Users can also post photos (up to 15) and videos (up to 5 min) — where people can then have real-time conversations. Like Twitter, users can reply to, repost, and quote others' Threads posts.
#2 An Instagram App
Threads is directly attached to Instagram. In fact, you cannot sign up for Threads unless you have an Instagram account. 
When you download the app, they immediately prompt you to log in with Instagram (IG). If you use IG on your phone, chances are it will recognize your IG account and ask you to log in through that account, or you can switch accounts.
You keep the same username, password, and account name, although you can edit your bio to be unique to Threads. At every step, they offer you an " Import from Instagram" button to make signing up even easier. You can also import the list of accounts you follow directly from Instagram, making it super easy to get up and running on the app.
You can choose to have a Public (anyone on or off Threads can see, share, and interact with your content) or Private account (only approved followers can interact). Unless you are a business, we recommend a private account.
Signing up is that easy. If you don't have that many followers imported form IG, don't worry, Threads fills your feed with algorithmically chosen content (like TikTok).
#3 Missing Features
Many of the app's initial users quickly pointed out the app's missing features, such as a trending topics tab, a feature to direct message users and hashtags. 
According to Adam Mosseri, the head of IG, there are many features on the list to be added. Forbes writer, Paul Tassi, tallied these up to include:
Editing posts

A following-only chronological feed

Hashtags

Multiple accounts

Desktop version

Translation option

Embed IG posts in a Thread

Only people you follow can reply

DMs

Character count
#4 No Ads (yet)
Although there are no ads on the platform, Threads could also ultimately supplement Meta's core advertising business (which they are very, very effective at).
Axios reported that Instagram wants to bring its branded content tools to the new app. This will let marketers employ paid promotion campaigns on the platform while they wait for a full advertising solution.
It's difficult to imagine Mark Zuckerberg maintaining an ad-free app for too long.
#5 App Rating and Parental Controls
Apple rating: 12+
Android rating: T for Teen
Common Sense Media: 14+
Brave Parenting: 16+
There are notable concerns regarding privacy, but frankly, these are no different than any other social platform. The App Store states it can collect the following data on you:

Health & Fitness
Financial info
Contact info

User Contact
Browser History
Usage Data

Purchases
Location
Contacts
Search History
Identifiers
Sensitive Information
Diagnostics
Why do they need to collect all of this data? So that when the ads do come, they will be fully prepped with what they need to advertise directly to you.
Furthermore, as with anything shiny and new on the internet, the unethical and unholy come out in droves. In our short time reviewing the app, we saw comments of women trying to promote (sell?) themselves seductively and extorters looking for fresh and vulnerable victims. Not to mention, while benign, there are lots of desperate souls seeking a following of their own.
Needless to say, there can be a lot of adult/mature content on the app, although an article from Vice lamented Meta's policies against nudity: "Threads is enforcing Meta's usual policies, which forbids nudity or anything it determines to be sexually suggestive – a hugely unpopular position which infamously killed Tumblr, continuously bans sex workers and queer people, and nearly destroyed other platforms like OnlyFans." As we've seen time and time again, however, these policies mean very little. 
There are similar content ("privacy") controls to Instagram. These are not parental controls because they know their target audience is the adult Twitter user. See above right picture.
The bottom line is that there is no reason anyone under the age of 16 would ever need to use Threads for thought expression or cultural news consumption. Even at 16, we'd suggest caution. 
As with all social platforms on smartphones, they are an easy distraction from life, relationships, and work/school. It's important to ask, "Just because I can [use Threads], does it mean I should?" This question is too often neglected.