What is TikTok and is it appropriate for my children?
Here are 5 FACTS every parent needs to know about TikTok:
#1 Entertainment "Social Media"
TikTok, formerly known as Musical.ly, is owned by a Chinese company, Bytedance. It's popularity rose quickly since 2018 and it now boasts over 1 billion users (over 123 million are in the United States). The app has held as the #1 free app on Apple for almost all of 2020.
Categorized as entertainment but it is often considered a social media platform. The reason for this is that TikTok has an algorithmic feed of content (the For You page), users can follow one another, like/comment on videos that are posted, and message one another inside the app.
Even with these very "social media" like features it is best to consider the app truly as entertainment only.
Entertainment, as we know, is enjoyable but in some instances entertainment can also be addictive (for example, when carried around in your pocket and available in 15 second, bite-sized increments). This is one of the greatest concerns we have with TikTok: the addictive nature.
#2 For You (#foryou) Page & Fame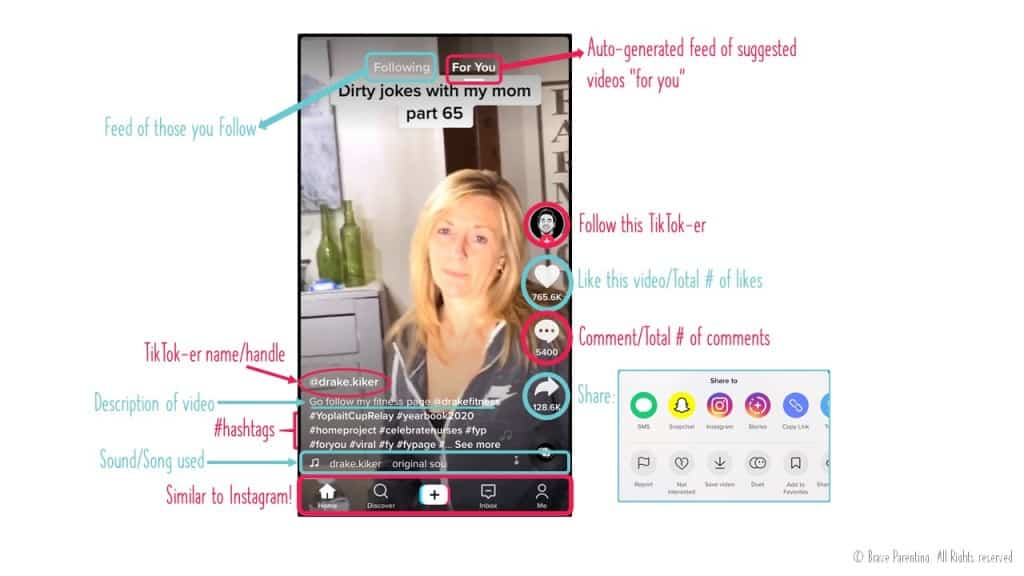 Opening the app immediately brings you to the For You stream of videos. You don't need to sign in or even create an account, for that matter in order to see this "homepage". It is an algorithmic-driven feed where the more videos you watch, re-watch, like, or engage with the more personalized this feed will be.
TikTok creators use the hashtag #foryou or #fyp on their videos in attempt to get their video on this homepage stream. Because the For You algorithm serves a wide audience, accounts with a handful of followers can go hugely viral within the span of a few hours. Followers rack up far more quickly than on other platforms, so having tens of thousands of them is relatively standard for anyone who's had even a minor hit. (Which leads to #fame.)
TikTok fame is now a common and increasingly attainable goal for kids, teens, and young adults. According to a survey by data research firm Morning Consult, more than half of Americans between the ages of 13 and 38 say they'd like to be an "influencer" if given the opportunity.
Ultimately, the goal of TikTok is no different than other social media platforms: maximum engagement. They want to lure you into the rabbit hole.
Unfortunately, recommendation algorithms aren't trained to make moral and health-related judgments regarding the content they recommend. Do you like puppies? Based on what you're liking and searching for, TikTok thinks you do so its algorithm will show you more puppies. Ahhhh puppies! However, the exact same formula applies to potentially harmful forms of content. Do you have anorexia, suicidal thoughts, or a thing for half-naked girls shaking their butts? TikTok thinks you do, so here's a bunch of triggering videos.
Recently….WIRED online magazine reported about TikTok's problem with Anorexia (or pro-ana) content and how they should have seen this coming as every major platform has battled it.
#3 Video Creation/Live-streaming/Messaging
The goal of a TikTok video is to either dance, lip-sync, prank, challenge – basically anything that expresses yourself or makes others laugh, typically with a song playing, AND all in 15 to 60 seconds.
TikTok provides an easy to use, versatile video creation platform to achieve this. Aside from a large volume of songs (a lot of them with explicit lyrics) they also provide creators fun tools such as: different recording speeds, "Beauty" to remove wrinkles, shininess, redness, freckles, etc., and Instagram and Snapchat-esque filters.
Aside from videos, a new and growing trend on TikTok is live-streaming while you sleep. According to a New York Times article, livestreams aren't archived, so sleep-streams, many of which are simply a dark blank screen, provide a time and place for users to meet and have an ongoing conversation. TikTok users enjoy this so much that they are spending money to send emojis/coins to their favorite TikTokers while they are sleeping to encourage them to continue.
TikTok also grants the ability for direct messaging. The bottom navigation chat bubble "Inbox" is where you can message another TikToker and also is where you can view your notifications, such as how many people liked your video). Public accounts can receive messages from anyone on TikTok, which always brings concerns of predators, creeps, and bullies.
Important to note: once a video is public, it cannot be deleted from TikTok's servers.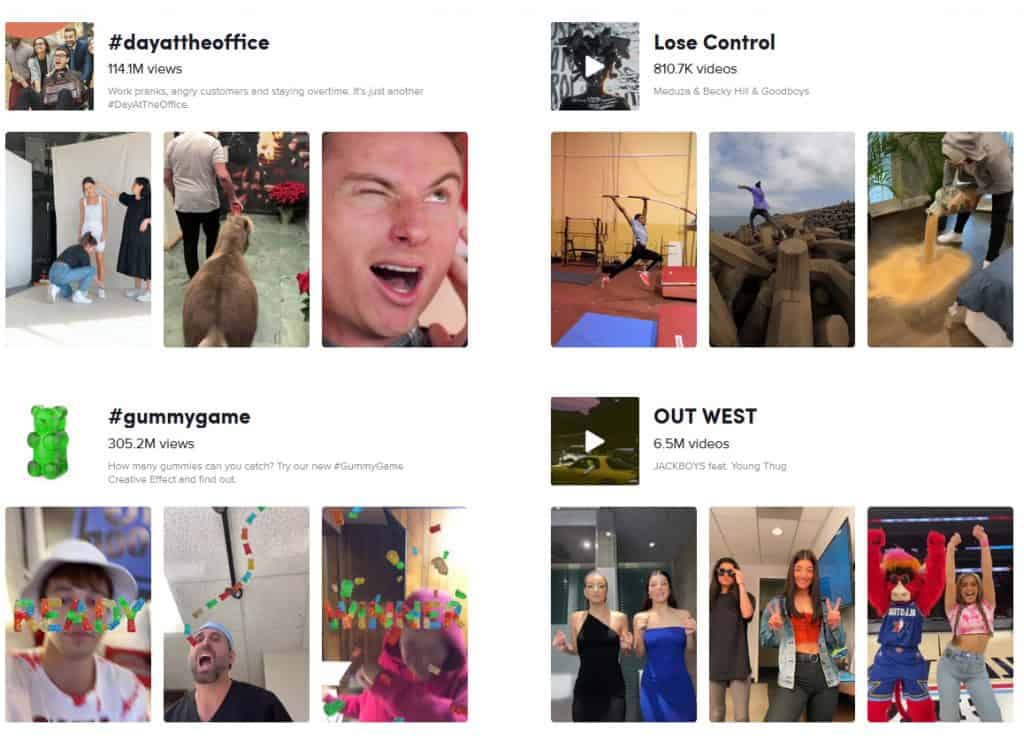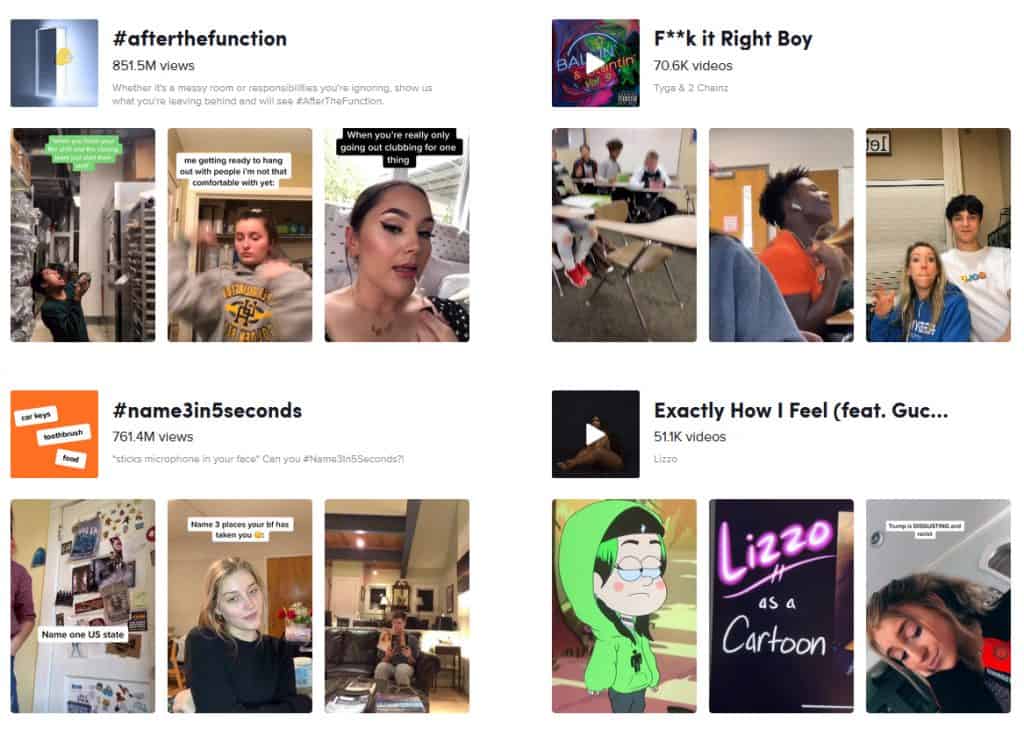 #4 Challenges/Controversies
Perhaps because of its quick rise in popularity or any other host of reasons, TikTok has been ripe with controversies since its beginnings. Some are due to the viral challenges the platform supports.
The United States Army, Navy and Marine Corps recently banned service members and personnel from installing TikTok on government-issued phones. In similar concerns for National security, TSA has also banned employees from using TikTok.
In April of 2019, India banned the app from downloading after an Indian court ruled that it could expose children to sexual predators, pornographic content and cyberbullying. TikTok appealed the decision, saying it had cracked down on inappropriate content, and the court reversed its ruling. The government then gave Apple and Google permission to offer it for download again.
A cursory scan of TikTok related headlines over the past year read:
TikTok of a teen getting an abortion went viral and sparked a massive debate
A TikTok influencer 'almost died' after getting trapped under the ice during stunt video
Teens warned not to try TikTok 'Pass Out' challenge that 'can result in death'
New TikTok challenge has people eating cereal out of each other's mouths (see above picture, center)
TikTok under fire for hiding videos of 'overweight and disabled users' 
TikTok allows anti-vaxxers to spread deadly myths that jabs cause autism and cancer and are made from aborted babies
New TikTok Skullbreaker challenge lands youth in ICU with head injury and stitches  (see above picture, left)
There is even a website dedicated to recording the amount of deaths and injuries associated with TikTok.
#5 Parental Controls & Ratings
Under Settings, TikTok offers Digital Wellbeing limits. Here's the silver lining: THESE ARE LEGIT PARENTAL CONTROLS! More than any other popular social platform, TikTok actually gets this right!
RESTRICTED MODE: Uses an algorithms to attempt to limit videos that may not be appropriate for all audiences.
SCREEN TIME MANAGEMENT: Set up a time limit for app usage.
AUTOMATIC UNDER 16 RESTRICTION: Users under 16 years old will have Direct Messages automatically disabled.
Both Restricted Mode and Screen Time Management features can be protected with a 4-digit PASSWORD. This means that parents can set these limits up and a child cannot undo them. Not only that, but a parent can link their own TikTok account with their child's in order to adjust limits remotely.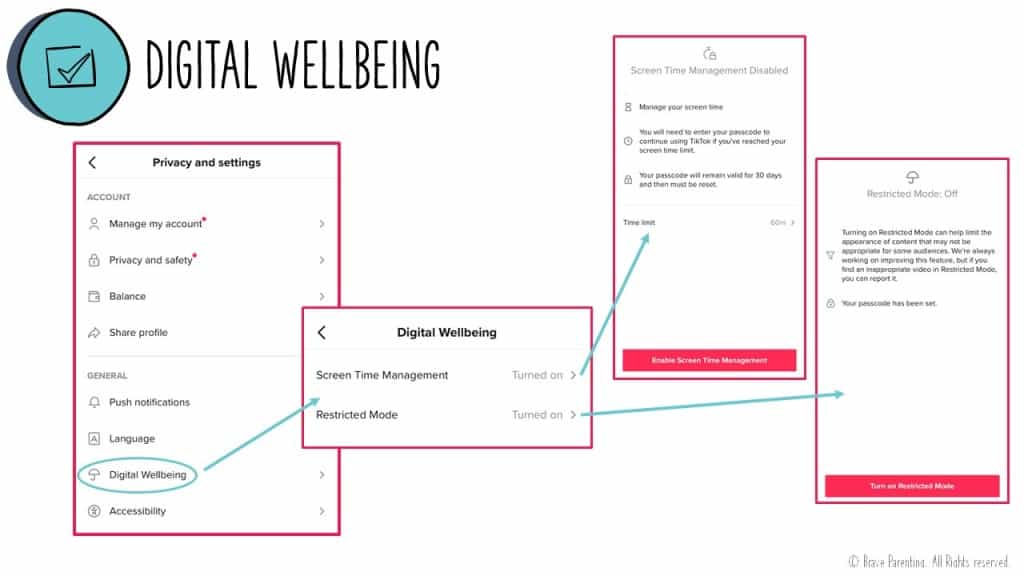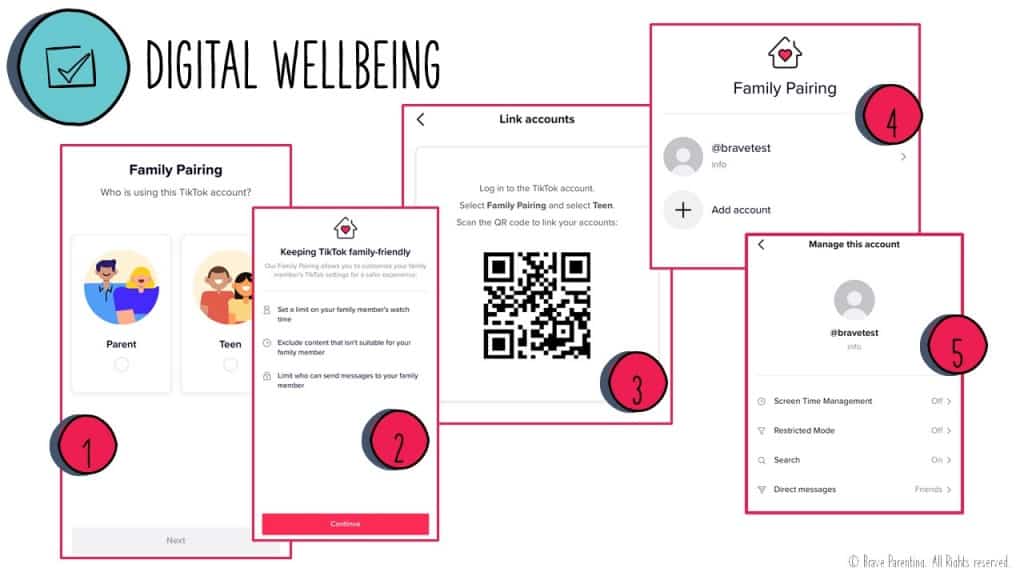 Another way to increase privacy and security is to change the default safety setting for "who can post comments," "who can duet with you," "who can react to your videos" from Everyone to Friends. Although making the account private should ensure strangers can't find your child, these settings make it so that your child can't invite strangers in.
The final key to remember about TikTok is that you don't need to log in in order to see the For You feed, search for users, or discover new trends. Therefore, signing out of their account enables a child to bypass these limits.
Ratings:
App store: 12+
Google play: T (Teens)
TikTok: 13+
Brave Parenting: High School
There are definitely positives and negatives with TikTok. Since TikTok makes its content available on its website, it is almost impossible to keep your kids from viewing it. Therefore, we'll review Brave Parenting's three top concerns:
1. ADDICTION/OBSESSION
Watching 15 to 60 second video clips can actually waste a lot of time. Because the algorithm is constantly feeding more videos to you that is believes you'll like (and chances are you will) it is extremely hard not to lose yourself in the app. And when you can watch whenever/wherever on your personal device without anyone knowing, addiction is easy and undetectable.
We LOVE that TikTok has given a password protected screen time limit in order to help curb addiction. This feature, in combination with co-viewing and pre-viewing content in their account, also promotes healthy use.
2. OVER-SEXUALIZED/PROFANE
There are far, far too many teenage girls wearing too little clothing and dancing provocatively on TikTok. Granted, its easy to see why. The app is full of teens – guys and girls – and the best way to catch attention and affirmation is by showing off your body. Many of the popular and trending videos also contain profane and obscene lyrics. It is hard for teens to not resist making the same type of normalized content.
3. FAME/WORSHIP
TikTok is widely known as a "fame-making machine", thus fame-seeking behavior is the norm here.
Plain and simple: We are not meant to be worshiped. The word of God warns against idolatry and pride throughout all of Scripture. We'd be wise as parents to heed these warnings and consider the character of your child before allowing them to seek/desire fame on TikTok.
With that said, we do believe that many teens could have the TikTok app on their smartphones and use it in moderation, with modesty and appropriateness, and not seek worship or fame.
Our Bottom Line:
Based on the character and heart of the child, we believe this app would be appropriate for teens in High School.
A few further recommendations we have are:
Set accounts to Private
Establish privacy standards for their videos

Can they create videos in your home? Are any areas off limits?
Can siblings/family members be in the video? Knowingly or unknowingly?
Should strangers/teachers/neighbors/bosses/etc be in the video? Knowingly or unknowingly?

Set clear boundaries around what type of music/song lyrics is appropriate.
Discuss the danger of participating in some of the promoted challenges.
Elevate humility and modesty and set clear boundaries for appropriate dance moves and clothing.
Preview/Review created videos
Moderate For You page/Follower