Disney, Pixar, Marvel, Star Wars, and National Geographic all in one place – this is Disney+. For your daughter, all the princess movies; for your son, all the Star Wars. Hopefully you like superheros, Mom & Dad.
The on-demand and ad-free streaming service is off to a big start with over 50 million subscribers in just 5 short months. Whether you jumped on board upon its initial release or caved during quarantine, the $6.99/month (or $69.99/year) seems well worth it if you have kids.
Compared to its competitor, Netflix, the parental controls are severely lacking. Maybe this is because most Disney+ isn't serving up TV-Mature or NC-17 rated shows (like Netflix does). Regardless, there are still many shows/movies you may want to limit based on age. Here's how to set up your child's profile:
Parental Controls
1. Open the app on your phone, television, computer or device.
2. Add a profile then choose an image.
3. Name the profile, then toggle ON the Kids profile. This will provide only kid-friendly content suggestions. It will also automatically toggle OFF the auto-play feature (which is nice!)
The difference is content suggestions appears like this:
Unfortunately this is the extent of parental controls Disney+ offers.
There are NO FEATURES allowing you to:
Restrict child accessing parent account
View watch history
Block specific shows/movies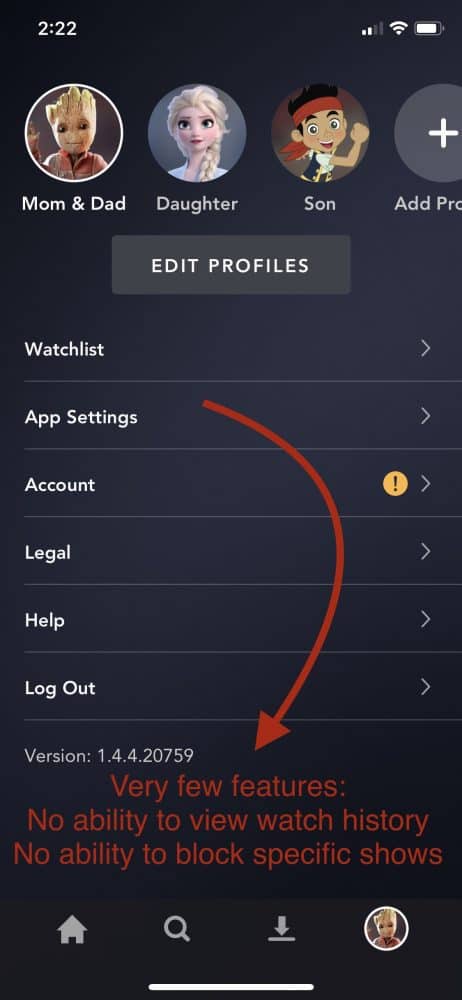 Hopefully in the future, Disney will add these much desired features.