What is Whisper and is it appropriate for my children?
Here are 5 FACTS on Whisper every parent needs to know:
#1 The Basics
Whisper is an Anonymous Social Media app encouraging users to
"Express themselves open and honestly"
"Connect with others who share your interests"
"Discover the world around you"
"Create video whispers to better express yourself"
"Make new friends and chat"
People use the platform to disclose amusing observations, unload a deeply personal secret, reach out for advice or just see if there's anyone out there they can relate to.
Per Google Play store:
"Ever wondered what the people around you are really thinking? Whisper is an online community where millions of people around the world share real thoughts, trade advice, and the inside scoop."
You can also access Whisper posts online at Whisper.sh. Here you can view categories of whispers and share them on your social network but you cannot heart, reply, or message the Whisper user who wrote them.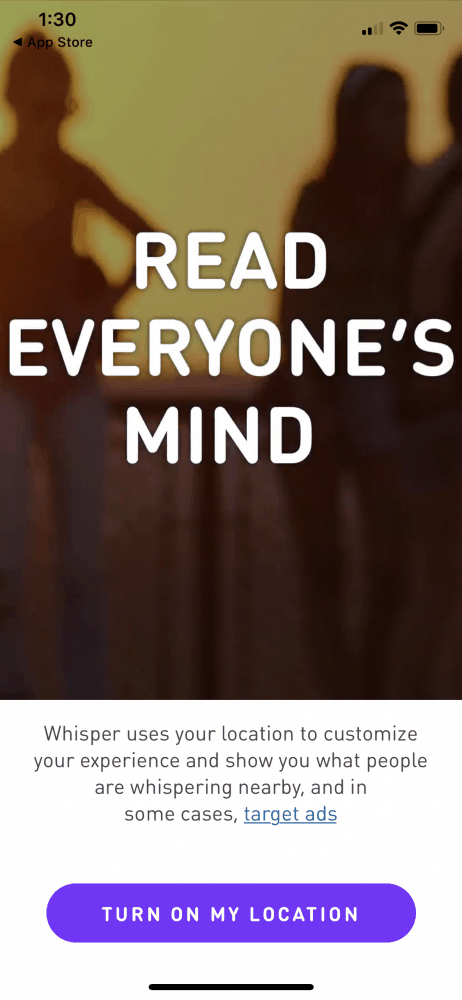 It is important to note that upon downloading the app, your one and only option to get into the content is to "Turn On My Location". You can still turn the location sharing off in Settings after the fact, however.
#2 How it Works
Unlike other social media apps, Whisper users do not have an identity. There are no profiles, no friends and no followers. In fact, users cannot even search for other users.
To post a whisper, you type your secret (or question/observation/etc.) then the app will automatically choose an image to underlay your text.  Or you can choose an image on your own or take your own.  So essentially what you have is a sort of meme that is then posted to a real-time stream that others can view.
Whisper will automatically add tags to your message. These function just as hashtags on Twitter or Instagram, categorizing your messages and allowing people to find it more easily. Whisper's algorithm for adding tags is fairly comprehensive but you could still add your own if you wanted.
Feeds can be sorted by Groups, Popular, Nearby – including schools (that is, if you tell the app what High School or College you attend) and Latest. This gives plenty of opportunities for finding a community to hear your 'whispers'.
Tapping on a whisper allows for 3 options: (1) heart, (2) reply (which are public), and (3) direct message.
#3 Messaging
You can respond to a message publicly (a reply) or privately (direct message). A pubic reply is still anonymous as is a private message, which allows chatting under a pseudonymous handle.
While users do have persistent handles, there is no way to contact them except through the whispers they post. Once you're messaging through a posted whisper it functions as any other texting would, where users can message back and forth as much as they want.
The chat bubble in the bottom navigation allows (actually, encourages) users to join new chats. Whisper will suggest chats for you to join AFTER they remind you of their community guidelines and how both Whisper and Law Enforcement actively monitor the chat service. The suggested chat whispers are no different than the whispers found in the other categories.
As with all apps that have messaging functionality, online communication with strangers poses great risks – especially when identity is unknown. Children could divulge their private information all too easily through messaging. This could be where they go to school, their address, their name – all details that a predator could use to gain more information including other social media accounts.
#4 Privacy
If you allow Whisper to access your location this information will show up together with each post. Furthermore, your whispers will show up with other whispers when the feed is sorted by location. This increases the possibility that the person who replies to your whisper is within walking or driving distance.
A lot of data is tied up in Whisper. Remember that any free app must make money somehow to sustain their services. Whisper automatically collects usage data in addition to owning the rights to all whisper posts. Since they focus on anonymity but do not clearly state whether whisper posts are tied to specific device data or IP addresses, it's easy to assume what you post will never resurface with a connection back to you. Unfortunately, we don't know if this is true.
**MARCH 2020 UPDATE**
Whisper has been inadvertently exposing sensitive information about its users for years through a public online database, according to a new report from The Washington Post.
#5 Parental Controls/Ratings
Apple: 17+
Google Play: T Teen
Whisper: 17+
Brave Parenting: 18+
Whisper has no parental controls, which to some extent is understandable since it was created for adults (17+).
There is a setting to hide NSFW (Not Safe For Work) content from appearing in the Home Feed but there is no lock to this setting. It can easily be switched on and off.
Basically, when you have anonymity and public social media accounts you have predators. Child predators look for vulnerable and unsuspecting children to prey upon. Children who may want to use Whisper will want to "secretly" express their sadness, emotional needs, or even their desires which makes them even more of a target.
There are numerous tragic stories where men were able to meet up with girls through Whisper. In 2018, a 23 year-old FL man was arrested for sexual battery with force on a 12 year-old. The two connected on Whisper where the young girl said she was 15 and they got together to "party".
Bottom line: this is not an app any child under the age of 18 should have.