What is Snapchat and is it appropriate for my children?
Here are 5 FACTS every parent needs to know about Snapchat:
#1 Photo & Video Messaging ("Snap")
Snapchat is technically NOT a social media platform but rather a photo sharing app. Snapchat's initial focus was on private, person-to-person photo sharing, notably popular by the disappearing photos feature. The app is now used for a range of different tasks: sending short videos, live video chatting, messaging, creating caricature-like Bitmoji avatars, and sharing a chronological "story" broadcasted to all your followers.
Snapchat opens to the self-facing camera enabling you to "share the moment, fast!" Once you've "snapped" your picture you can edit/enhance it with lenses and filters. These range from silly (transposing dog or bunny ears on your head), to creepy (swapping faces/genders), to dangerously perfect (removing all flaws and accentuating all assets).
These filters aren't without controversy, however. "Snapchat Dysmorphia" is now causing alarm among plastic surgeons who state a growing number of girls are seeking out cosmetic surgery in order to look like their perfectly filtered Snapchat selfies.
Once you've filtered your "snap", you can enhance it with text, stickers, or more filters. The final step before sending your snap off to another is to choose how long the snap will remain visible to the recipient (seconds or forever).
VERY important to note that although YouTube brings in the most teen traffic and Instagram boasts most teen accounts, teens claim Snapchat is the most important app in their life.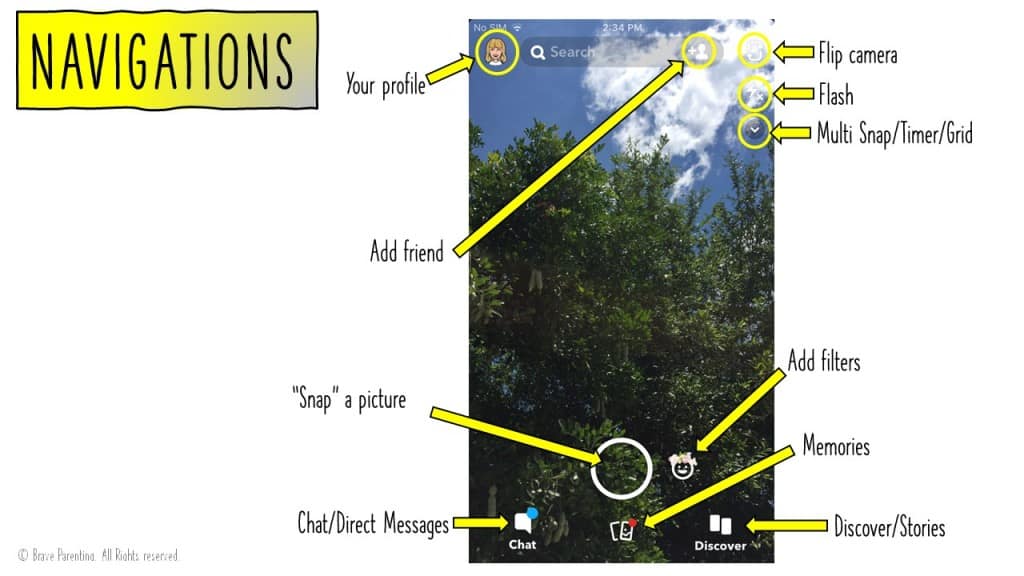 #2 Chat
You can access the Chat section by swiping from left to right on the Camera screen. From here, you can also send Bitmoji stickers, start a live video call, send money, share snaps, and more.
Chats are text messages sent through the app itself (similar to Instagram Direct Messages (DMs)). This means that any messages sent, received, or even deleted exists only on Snapchat. The phone itself holds no record of the chat. Therefore, parents have little to no access to this content. All that to say, a screen shot taken of any chat/message/picture, leaves a solid record of the conversation.
By default, chats are deleted once leave the "Chat". This makes for an easy avenue for BULLIES and PREDATORS to weave their way into a child's life.
#3 Discover
You can access the Discover section by swiping from right to left on the Camera screen. Discover consists of micro-stories from mainstream media and entertainment (Buzzfeed, Cosmopolitan, ESPN,) as well as friends and user-submitted stories.
Your friends' "Stories" are essentially their daily activity feed, visible for 24 hours. This feature is an integral part of the app and is accessible through the Discover section; therefore, you can't escape seeing what Snapchat deems news-worthy.
Nor can you control what type of content appears in your Discover feed. There are very often stories relating to sex, pornography, masturbation, drug use, celebrity gossip, and all around unnecessary and inappropriate content. You can subscribe to different publishers and receive notifications when their story updates.
As you can see below, subscribing to many of these channels is an easy way to become misinformed and disenchanted with real life and relationships.
**If your child already has Snapchat, it's important to know what Subscriptions they have. As a parent you can unsubscribe and "hide" channels you wish for them not to see but there is not a hard block parental control here. The child can easily follow behind you and resubscribe.
**Parents can also try to exert some control over what is seen in Discover by editing Ad Preferences ("Audience based/Activity based") and User Preferences ("Lifestyles & Interests"). Thanks to our friends at Protect Young Eyes for this great information!
#4 Streaks
Snapchat introduced the "Snapstreak" feature in 2016 and has been capitalizing on teenage addiction every since. This feature encourages kids to send and receive snaps from friends for consecutive days. As a company trying to make money off user engagement, it was a genius move.  Keeping up streaks gives teens a reason – if not a compulsion – to open the app and use it every single day.
A streak begins when 2 friends send each other at least 1 snap for 3 consecutive days. Streaks are denoted by a flame emoji and ranked (current best friends) under the users friend listing.
Streaks easily loses sight of the goal to "connect friends by quickly sharing moments". Most commonly, teens will simply take a picture of the ceiling or floor and label it 'streak' in order to complete their obligatory commitment. This isn't sharing real life moments – it's manipulation to pursue a reward.
Additionally, these streaks begin to feel like something of great tangible value to Snapchat users, as if their friendships are defined by the quantity of consecutive days snapping. Users often report psychological distress (anxiety, depression, loneliness) when they lose a streak. In an effort to avoid this, many will give their account information to a friend who keeps their streaks going if, for example, parents took phone away or they go on vacation. This opens up a whole new world of dangers when a friend has intimate access to your social life.
#5 Parental Controls & Ratings
App Store: 12+
Google Play: T (Teen)
Snapchat: 13+
Brave Parenting: 18+
Teens deem Snapchat their most important app. For many teens, it is the hub of all their relationships. They may not see or talk face to face with any friends (even at school) but they will communicate over Snapchat all day long.
The problem with Snapchat is that it provides an illusion of intimate connection and deep relationship.  It's a parody of the connection and relationship teens crave. For example, teens feel connected with one another but when they see a friend's story and realize they've been left out, they feel disconnected, disappointed, and/or depressed.
The same connection that occurs on Snapchat can occur through standard text messaging but without the intermittent rewards, algorithms, addictive streaks, and inappropriate story content found in Discover. All of that is unnecessary fluff the app uses to lure teens in. Since the app is free, they make money by keeping users maximally engaged (with fluff).
We at Brave Parenting hold fast to our 18+ age rating on this app, additionally because there are zero parental controls available. There are settings (see below) you can change/encourage but these can easily be altered at any time by your child.
Admittedly, this is a hard stance to hold and your children will likely loathe it. However, it is applying wisdom  for the protection of their relationships, self-worth, and time. Snapchat will not foster better character, lead to better friendships, or make them better equipped for life.