What is the Twitch app and is it appropriate for my child?
Here are 5 FACTS every parent needs to know about Twitch:
#1 Watch Live Gaming
Twitch is a streaming service (similar to YouTube) most specifically for Live Video Game Streaming.
Per the app store: "Access all the content you care about, from frenetic Overwatch multiplayer matches to soothing Bob Ross art demos. With millions of unique streamers every day playing everything under the sun, if it's worth watching, it's live on Twitch."
Watching broadcasts and videos on Twitch is completely free and doesn't require viewers to log in. The app recommends streams or you can explore: ​Communities, Popular, Creative, and Discover on your own.
Anyone with an Amazon Prime membership automatically gains a Twitch Prime subscription. Twitch Prime gain an ad-free experience, free digital downloadable content (DLC) for select titles, video game discounts, and more.
#2 www.twitch.tv
Twitch streams can be viewed from many different locations (other than the app), most notably on the official Twitch website.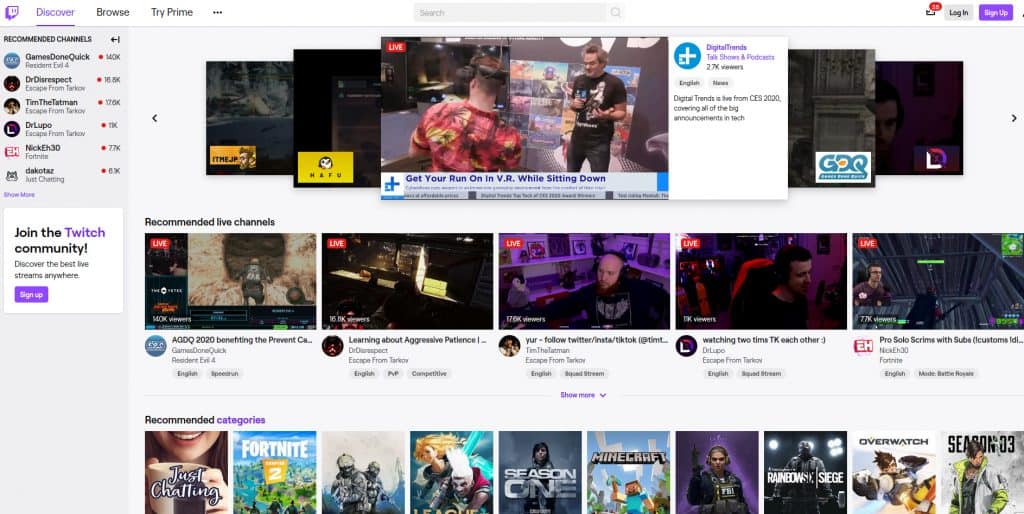 There are also official Twitch apps available for the Xbox 360 and Xbox One video game consoles, Sony's PlayStation 3 and 4, Amazon's Fire TV, Google Chromecast, Roku, and the NVIDIA SHIELD.
Important to note: Twitch users can only broadcast on certain devices such as a PC, Xbox One, and PS4. They CANNOT broadcast themselves from an iPhone or Android phone.
#3 Direct Messaging
Twitch users can FOLLOW and DM (Direct Message) each other, much like social media platforms. Each stream has its own unique and live chatroom allowing users to connect with their favorite streamer themselves or other viewers.
Pulse is a feature which essentially functions like a Facebook or Twitter timeline. It allows for everyone on the network to post their own status updates as well as like, share, and comment on what others have written. Again, very much like social media.
Direct messaging features and "chatrooms" are notoriously dangerous for children. Predators and pedophiles use these features to make connections with children over shared interests (video games) and establish friendships over time. This grooming process is unfortunately common in online gaming and therefore, open communication and education must be present between parents and children.
Users can block DMs from strangers by going to SETTINGS>PRIVACY>BLOCK WHISPERS FROM STRANGERS.
#4 Making Money
This is why a lot of kids want to stream on Twitch: the prospect of making money. After Fortnite streamer Ninja skyrocketed to fame and wealth on Twitch, a new possibility began unfolding in children's eyes. I could get paid to play video games all day.
Twitch Partners and Affiliates are special types of accounts that allow for monetization of broadcasts. Anyone can become a Twitch Affiliate or Partner but certain requirements must be met in regards to a stream's popularity and the number of followers a user has.
Twitch subscriptions are essentially scheduled monthly donations of $4.99, $9.99, or $24.99 with the chosen amount being split between Twitch and the streamer 50/50.
#5 Ratings
App Store: 17+
Google Play: T (Teen)
Twitch: 13+, 13-18 watch live streams under parent supervision
Brave Parenting: 17+
Some teens may have genuine skills in a game and could view having their own Twitch account as an entrepreneurial venture. Others, simply want another source of entertainment: watching other people play video games.
It takes a delicate balance to play video games for fun (avoiding obsession or addiction) and to manage a "fan base" of viewers. Playing a game takes on a whole new meaning when the goal is to gain followers, subscribers, and promote your stream in order to make money. This takes maturity, wisdom, and self-discipline, which most children don't possess enough of.
For those who only want to watch other streamers in order to learn new skills, tactics, strategies, etc. there remains the concerns of live streaming and public communication. There is no censoring or predicting what streamers may say or do. And, again, anywhere kids like to hangout online, predators always follow. DMs and live stream chatting definitely poses a risk to young children. This is most likely why the app themselves states that users between 13-18 should only be with parental supervision. And we fully agree, with parental supervision on Twitch, younger teens could safely watch. Without supervision; it is not worth the risk.