What is Netflix and is it appropriate for my child?
Here are 5 FACTS every parent needs to know about Netflix:
#1 Subscription Streaming TV
Netflix is an online service that lets you stream thousands of movies and TV shows over the internet. The company began in 1997 renting DVDs by mail with a monthly subscription. In 2007 they added the feature of streaming television and movies directly to a PC, again with a monthly subscription. After incorporating the Blu-ray Disc player for its internet streaming, Netflix grew substantially into the powerhouse it is today.
Netflix now has apps for pretty much every device under the sun: iPhone, Android, Mac, Windows, Apple TV, Xbox, PlayStation, cable boxes, and more.
#2 Content
Netflix has everything from newer movies and recent seasons of popular shows to a wide selection of old favorites. Shows from NBC/ABC/CBS and Fox such as Lost, X-Files, Star-Trek, Parks and Recreation come and go from the service. Even more, Netflix is becoming well known for its own original movies and shows. These include House of Cards, Orange is the New Black, Master of None, and much more.
The categories are on the main page and have labels such as "Popular on Netflix," "Recently Added," "New Releases," and even "Top Picks" just for you. Netflix keeps track of what you are viewing, what you have viewed, and even provides you with a list of suggestions based on your past viewing experience.
The service categorizes maturity ratings as: Kids (TV-Y, TV-Y7, G, TV-G, PG, TV-PG), Teen (PG-13, TV-14), and Adult (R, TV-MA, NC-17). According to Netflix, they determine maturity ratings by the frequency and impact of mature content in a TV show or movie. TV show ratings reflect the overall maturity level of the whole series. When previewing a show/movie Netflix provides "themes" such as Witty, Sitcom, Raunchy, Soapy, Teen, Goofy, and Emotional. Unfortunately you cannot filter your child's allowances by these themes but they can help you decide whether it is appropriate for them to watch. (Pro Tip: Anything with the theme Raunchy, Intimate, Dark Violence, etc. should be be limited.)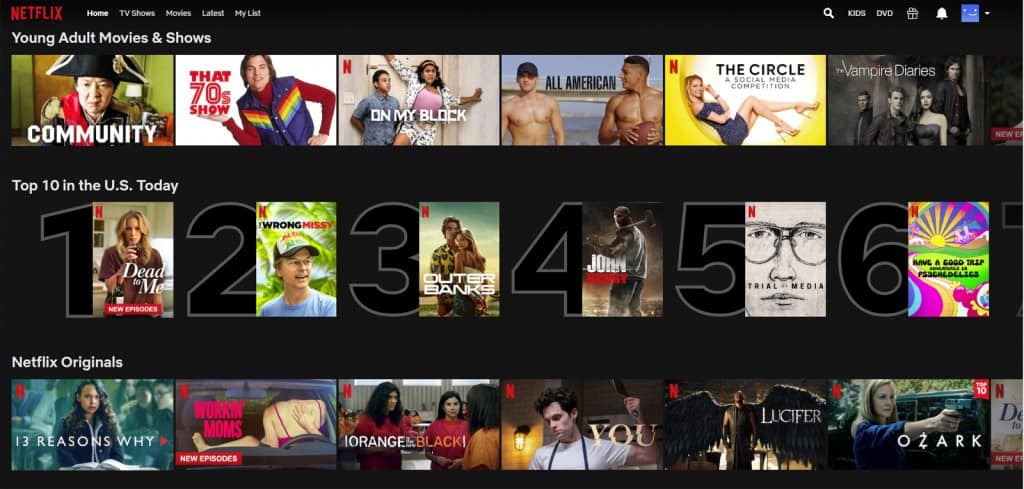 #3 Binging
Netflix has refrained from adding single episodes of TV shows. Instead, they prefer to wait until a show's season has concluded before trying to get it onto the service. This has given rise the now household term of binging. When an entire season is available – and when the next episode auto-plays – it is hard to peel yourself away from the story. Instead of one episode of a show, you watch an entire season.
As you use Netflix, the TV/Movie selection menus displayed begin to conform more and more to what it thinks your like. And, as the catalog of shows and movies is frequently updated, there is always something new and different to binge on.
#4 Cost
While the app is free to download on any smart device, their is a monthly subscription required. New subscribers are eligible for a free 30-day trial.
Basic: $8.99/month

SD Resolution, limited to 1 device

Standard: $12.99/month

up to 1080p resolution, 2 devices at the same time allowed

Premium: $15.99/month

up to 4K resolution, 4 devices at the same time allowed
#5 Parental Controls & Ratings
For a long time, Netflix lacked sufficient parental controls. As of April 2020, there are finally adequate methods to keeping kids safe on Netflix.
You can create an individual account for you child with a specific maturity ratings. To use the Netflix Kids experience, select Kids. This interface is more simplistic and does not allow for changes to account settings.
When you set a maturity rating for a profile, that profile will see only TV shows and movies that fit that rating. You can also block specific TV shows and movies from individual profiles.
You can also restrict access to a specific profile on your account (most notably: YOUR adult account) by activating a Profile Lock PIN. A few other helpful controls Netflix allows is the ability to turn off auto-play and access the viewing history of a profile.
Here's the full how-to-set-up steps.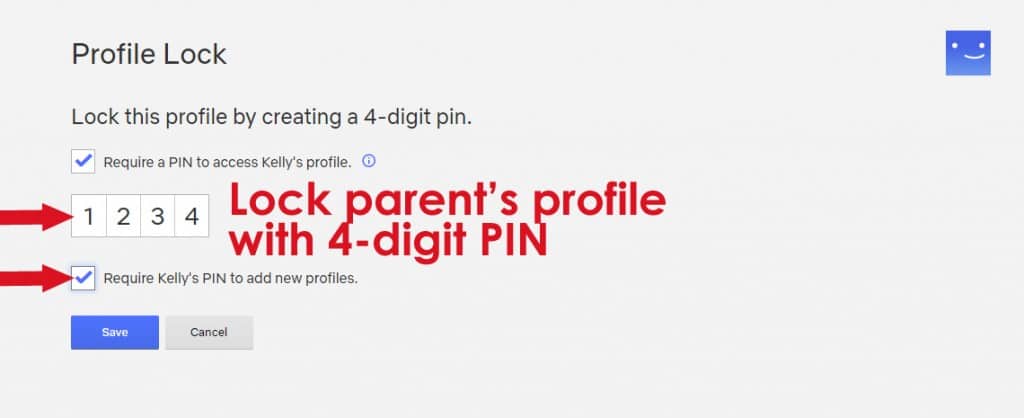 Ratings:
App Store: 12+
Google Play: T: Teen
Netflix: 18+
Brave Parenting: Limited
Netflix as a service isn't bad by any means, however the instantly available entertainment it provides can become problematic for some people – especially the youth.
If you are subscribed to Netflix, your children can safely use the service with the parental controls activated. We would, however, also urge you to create boundaries for how much time children spend on Netflix. Binging on Pokemon or Garfield is not a beneficial habit for 6 year olds.
Regarding the Netflix app on a teen's phone, Brave Parenting recommends a minimum of 16 years old and a serious consideration for the teen's self control, time-management skills, and overall responsibility. When a library of streaming content is easily available, there is strong temptation to check out mentally from class, a job, or even relationships.
One way to ease them into the privilege is to allow it over the school breaks but not during the school year. This allows for teens to "practice" finding balance between binging and responsibilities when the risks are lower.  And as long as you pay the Netflix subscription, they should log into the Netflix profile you've created for them. You may give older teenagers the freedom to watch R- rated shows and movies but there are still TV-Mature and NC-17 you may want to block.
When they are 18 (per Netflix terms of use) and want to pay for their own subscription (per your terms of use), they can have a parental control-free account.